*UPDATE*
Click
for an interesting, albeit slightly disturbing account by Associated Press reporters.
Police have identified 26-year-old Chris Harper Mercer as the shooter who massacred at least 10 students in a community college in Oregon at around 10:38 on Thursday morning.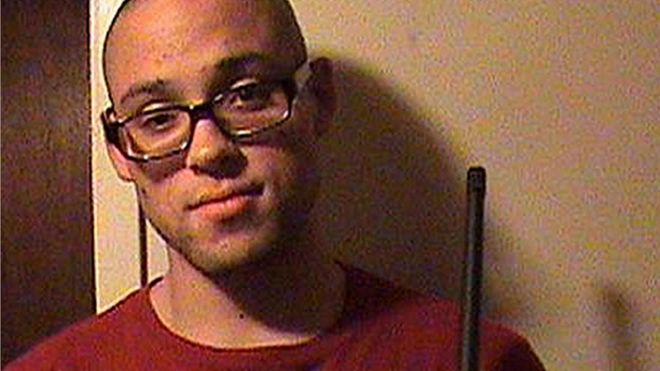 Chris Harper Mercer posted this picture on MySpace.
He is holding a gun.
According to students present at the scene, Mercer entered the classroom with a gun and told the students to stand up and state their religion. Then, he started firing.
A comprehensive
article
by the New York Times fleshes out a fuller picture of Mercer. His parents were divorced. He graduated from a private school for students with learning disabilities and emotional issues. He left the army before finishing basic training, and he didn't have a girlfriend. His mother was overprotective. He and his stepfamily had moved to Oregon recently. His online posts suggest that he sympathized with mass shooters.
"On a blog post linked to Mr. Harper-Mercer's email address, an Aug. 31 entry expresses sympathy for Vester Lee Flanagan II, a dismissed television reporter who killed two former colleagues during a live broadcast in Roanoke, Va.: 'I have noticed that people like him are all alone and unknown, yet when they spill a little blood, the whole world knows who they are.'
The entry continues, 'Seems the more people you kill, the more you're in the limelight.'"
Mercer is also said to have expressed extreme dissatisfaction with organized religion. He didn't talk much, unless the topic was on guns.
Although the amount of guns Mercer brought with him on campus suggested that he expected to be under siege for a long time, he died on the scene. I am nothing but supportive towards those in class who professed that gun control legislation should include a provision for stricter background checks.
But consider that such a background check had been performed on Mercer. Where then would we draw the line between prejudice and "safety"? Discriminatory background checks could pose a whole other set of issues about our attitudes towards the mentally ill, soldiers and veterans, and lonely people in general, most of whom do not kill. Not to mention the pervasive internet privacy debate. One might have pointed to Mercer's blog posts as the linchpin for the denial of a gun, but not so if his posts had been "private."
What if you were in the place to deny or allow Mercer a gun based on his background? Would you have pegged him for a potential killer? What is the correct formula upon which we might base your decision?
http://www.nrtoday.com/news/18445375-113/ucc-shooting-rampage-at-least-13-reported-dead
http://www.ibtimes.com/who-chris-harper-mercer-oregons-alleged-umqua-community-college-shooter-identified-2123675?rel=most_read1
http://www.nytimes.com/2015/10/03/us/chris-harper-mercer-umpqua-community-college-shooting.html