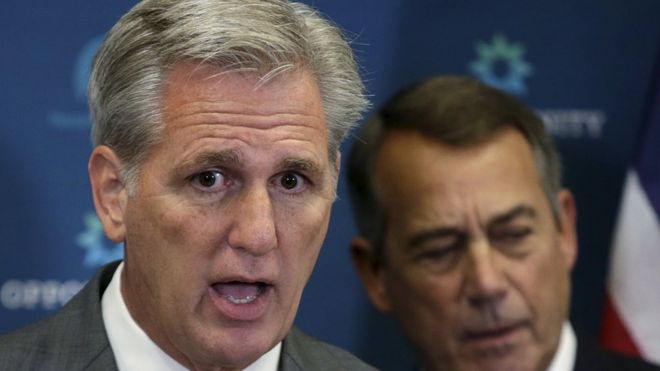 On Friday, September 25, Speaker of the House John Boehner announced that he would be retiring at the end of October. Majority Leader Kevin McCarthy announced his candidacy to replace Boehner on September 29. However, today, McCarthy stated that he is dropping out of the race for Speaker of the House.
One of McCarthy's reasons for dropping out of the race is that the Republican Party is incredibly divided on some major issues, and he does not think that he will be able to unite the party. Another reason stated was that McCarthy damaged his candidacy when he implied last week that the Benghazi investigation had a political agenda of damaging Hillary Clinton's presidential campaign.
McCarthy's decision shocked many house members and leaves the House in a state of confusion. Chaffetz, another candidate for Speaker, still plans on running. A group of Republicans stated earlier in the week that they would support Webster for the position. However, as of right now, it is unclear who will succeed Boehner.
Many important issues are quickly arising around this time. The Treasury predicts that on November 5 it will reach the debt ceiling, so congress needs to raise it. Additionally, the continuation on last year's budget will expire on December 15, which could cause a government shut down.
This relates back to class because in the last chapter we were discussing the House and national debt limits. The government reaching the debt limit would have catastrophic consequences as people will no longer trust the U.S. government as a safe investment. This will cause interest rates to rise and more expensive borrowing in the future. In addition, the GOP needs to find a suitable Speaker candidate quickly. The new Speaker needs to be able to represent the House as a whole and keep the party together.
What do you think about the current state of the House? What do you think is the importance of having a good Speaker of the House?
Sources: