Ahmed Mohamed's family is demanding 15 million dollars and written apologies from the local mayor and police chief. The letter to city authorities emphasizes the suffering Ahmed went through: "Ahmed never threatened anyone, never caused harm to anyone, and never intended to. The only one who was hurt that day was Ahmed, and the damages he suffered were not because of oversight or incompetence... The school and city officials involved knew what they needed to do to protect Ahmed's rights. They just decided not to do it."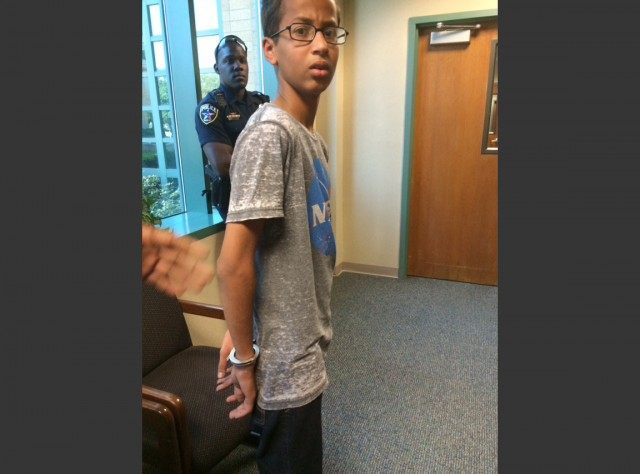 On the day Ahmed was arrested, he brought a homemade clock to school to show to his engineering teacher. Later, Ahmed's clock went off during English class and when he revealed the device the teacher notified the police. He was fingerprinted and mug shots were taken at a local juvenile detention center. Including an interrogation by multiple officers, Ahmed was suspended for three days. After these events, Ahmed gained lots of publicity going on to meet President Obama and Mark Zuckerberg.
With the media being quick to play the race and religion card, the teacher and police were discredited. We should take a second to consider the possibility that his clock was indeed a bomb hoax. In middle school, Ahmed had racked up weeks of suspensions and pulled pranks on his teacher with a homemade remote control. The police uploaded a picture of his clock online and many people believe that his invention that he made was actually a clock originally built by Micronta that he rearranged in a pencil box. If this were truly the case, is Ahmed worthy of receiving a city proclamation in New York City calling him "a role model for young people who want to pursue careers in math, science and engineering, and improve the world for future generations?" Although it may seem that I am discrediting Ahmed, I simply want to showcase opposing arguments.
What are your opinions on this topic? Is Ahmed Mohamed's family justified in their demands? With school shootings and other incidents where we hear afterwards "this could have been prevented if only we paid more attention to the sings," did the school and local police truly over react? Finally if you care to do some research on your own, do you think Ahmed's clock was a bomb hoax or not?
Sources
:
http://www.independent.co.uk/news/people/ahmed-mohamed-demands-15m-compensation-for-homemade-clock-arrest-a6745706.html
http://www.nytimes.com/2015/09/17/us/texas-student-is-under-police-investigation-for-building-a-clock.html
http://blogs.artvoice.com/techvoice/2015/09/17/reverse-engineering-ahmed-mohameds-clock-and-ourselves/
http://www.nydailynews.com/news/national/ahmed-mohamed-head-gang-teacher-article-1.2378712