As we have mentioned in class, the tone and subject matter of Obama's seventh State of the Union were quite different from the other recent addressees to Congress. Specifics were compromised in favor of a broad, optimistic look towards the future and a simultaneous defense of policy passed during both of his terms as president. Instead of trying to mobilize public support for policies or potential actions, Obama delved into the scrum of the next political election, seemingly hoping to structure the debate over the key issues he presented, which, to Paul Ryan and others, seems to dirty or degrade his post as president.
However, going into his last year as president, Obama does not have the same political influence as he had coming off an election, especially with a Republican Congress, so it is doubtful that any massive legislation will get passed. As a result, trying to utilize this widely publicized speech to compel Congress to fall in line on some contested legislation would be a futile action and a wasted opportunity in a year that sees so few chances to enact change.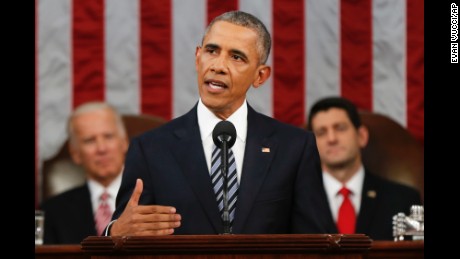 Instead, as the parts of the speech he spent patting his back indicate, he wants to preserve what he already has accomplished and desires to see the continuation of his legacy, which depends greatly on the ideological orientation of the future president. By indirectly denouncing Trump and inserting key talking points about economic opportunity and the utilization of technology, Obama makes the most of the public attention by dampening the flame of extremism and aiding his fellow Democrats, who are far more likely to continue his programs and take the country in a direction that builds on his presidency.
The speech reflects the reality of Obama's final term, which had lots of partisan discord and an ultimate lack of focus on passing bills via compromise.
Now for some questions. Everybody either watched or read the speech in its entirety (at least I hope so), so what did you think its aim was? Was it more idealistic than I made it out to be? Less? What should be the main aim of the Obama presidency in its final year? Is it suitable for an incumbent president to meddle with the politics that decide his successor? Any thoughts on the four future goals he listed (economic opportunity and security, technology, foreign security and restraint, and the political system) are also welcome and appreciated.
Photo: http://www.cnn.com/videos/politics/2016/01/13/state-of-the-union-address-obamas-regrets-08.cnn/video/playlists/state-of-the-union-address/