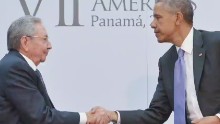 Obama has continued to make advancements toward opening up relations with Cuba by recommending to Congress that Cuba be removed from the US' list of countries that sponsor terrorism. Since making his intentions public in his State of the Union Address, President Obama has taken various steps to try and ease the tension between the two nations. Last week, Obama and current leader of Cuba, Raul Castro, sat down to discuss the current state of affairs, which is a huge step, as there have been no meetings like this one for over 50 years between leaders of the two countries.
Opening up relations with Cuba could possibly serve both economic and commercial benefits, as continuing to ease the embargo will allow consumers in both countries to purchase goods. Additionally, resolving the tension would hopefully allow transportation directly between the United States and Cuba, increasing tourism in both countries, and easing the process for Cuban-Americans to visit their family and friends back home.
What do you think about Obama's stance on opening relations with Cuba? Do you think that it is safe to end the embargo and open relations, or do you still feel that Cuba poses a threat to our nation's security?