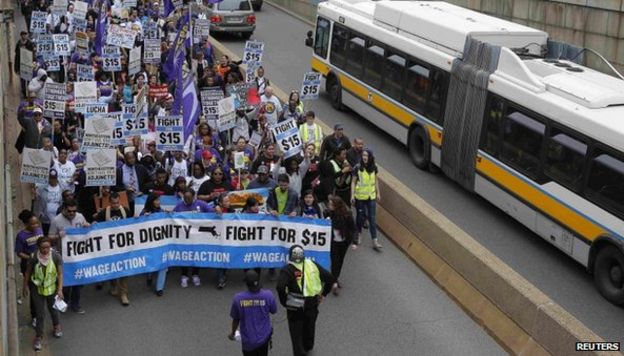 The movement known as Fast for Fifteen began their largest efforts yet on Wednesday morning, staging protests and sit-ins across 200 cities nationwide in fast food chains and airports. What originally began as a push to increase the minimum wage of fast-food workers two years ago, Fast for Fifteen has now, however, expanded their efforts to include retail, airport and homecare workers.
The current national minimum wage of service workers is $7.25, an amount that is immensely difficult to support a family with. Fast for Fifteen seeks to raise this to $15, a motion of which President Obama supports. The Fast for Fifteen movement has already reached a degree of success, achieving statements by multiple corporations, such as
McDonald's
and
Target
, to raise their wage floors.
The expansion of this movement is significant in improving the quality of life for many and ensuring financial security for Americans in the future, as now not only workers in the fast food industry have hope for higher wages. Although Fast for Fifteen have acquired initiatives by such large corporations, many worry it is still not enough to ensure that such a change happens. Moreover, political activists believe this movement is long overdue, especially as the 2016 presidential elections arise, as it is the first wide-scale challenge to an otherwise resolute wage system.
Despite their initiatives, do you think corporations such as McDonald's and airports have incentive to guarantee such wage changes? What do you think these motions mean for the economy and future of the U.S. if the minimum wage were to increase to $15?