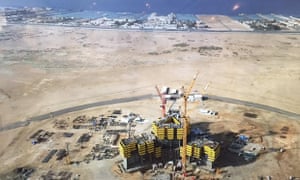 Construction site of the Jedda Tower
Up until now, the Burj Khalifa, standing at 2,716 feet tall, was the tallest building in the world, but this structure in Dubai might have met its match: Saudi Arabia's Jedda Tower, also known as Kingdom Tower, with a projected height of 3,280 feet. Saudi Arabia is working to get enough funding (1.23 billion) for this massive in-progress project. Currently, the tower stands at 26 floors tall, with the plan for 174 more floors to be built.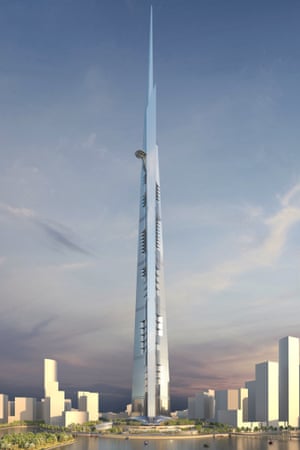 Computer created image of the Jedda Tower after completion
Architecturally, this building will be incredibly impressive. This structure, made of steel and concrete, is on the coast, where potentially damaging saltwater might cause a problem in the foundation. Another major challenge is the wind, as this building will be so tall. The creative solution? The tower "changes shape every few floors, [so] the wind loads go around the building and won't be as extreme as on a really solid block" (CNN). Although there are many challenges, Sang Dae Kim, director of the Council on Tall Buildings, believes that this building can be built.
Questions:
Do you think UAE (the country where the Burj Khalifa is) will be upset?
Should tallest building be a measure of success of a country?
Would you want to go to the tallest floor of this building?
Sources: